Google Ads Management
As a Google Partner, Designer Websites are experts in providing Google Ads management services.
What is Google Ads?
Google Ads (previously known as Google Adwords) are most often seen as text adverts with the little 'Ad' icon appearing at the top and bottom of the search page.
These Google 'Search' Ads are paid advertising - also known as 'pay-per-click' because you only pay Google when someone clicks on your advert.
Google Ads gives you the opportunity to have your adverts placed above the 'organic' search results - ie, above your competitors.
Other forms of Google Ads include image and video based ads.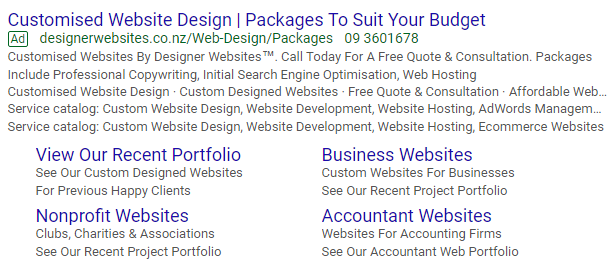 How much does Google Ads management cost?
Our standard prices for managing Google Ads search campaigns are below: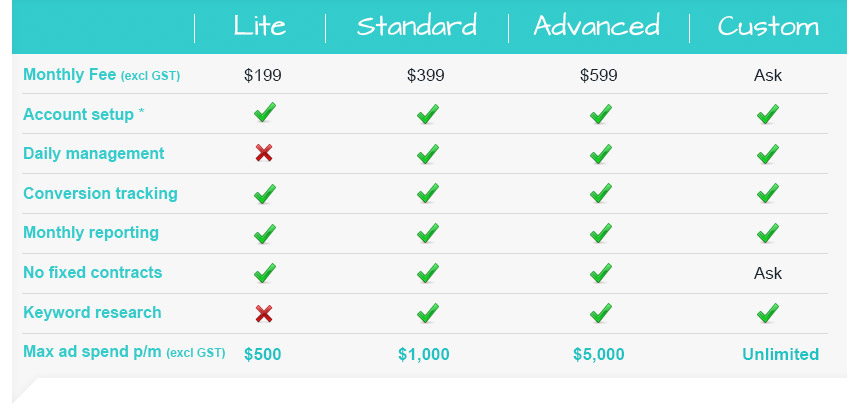 PLEASE NOTE
Prices are exclusive of GST and are subject to change.
More complex campaigns may attract a higher monthly management fee.
Although the Lite, Standard and Advanced services can be stopped at any time, the management fee for the full month will remain payable.
* An initial account setup fee may be applied and this will be discussed with you at the time to avoid any unpleasant surprises.
Our Google Ads Lite Package has been designed for organisations who want to trial Google Ads, or for whom a small campaign suits their needs. It includes:
One search ad group
Up to three ads (which we'd write)
Bidding on up to 10 keywords (search phrases)
There would be a one-off setup fee of $250 plus GST (to write the ads and setup the campaign) and then a monthly management fee of $199 plus GST.
With this package, your monthly ad spend would be capped at $500 plus GST per month (although you can request a lower amount) and the campaign would be limited to New Zealand. Each month we'll send you a report on the success of the campaign against your objectives, e.g. the number of contact form completions generated from Google Ads.
Why is Google Ads so Effective?
The reason why Google Ads can be so effective is that it gives you the opportunity to have your adverts placed above the 'organic' search results. You can also be very targeted about when your ads appear because your ads are tied to specific keywords (search phrases) so your adverts only appears when those keywords are used in a person's search - meaning that you can attract people who are looking specifically for your products or services.
With Google Ads, you can use 'negative keywords' to specify when you don't want your ads don't appear. Let's say for example that you sell dentist drills. You can use negative keywords to ensure your ads don't appear to people searching for power drills, pneumatic drills, fire drills, etc.
You can also set your ads up so that they only appear to people in a specific location. So if you're a hairdressing salon in Invercargill, you can make sure your ads don't appear for people outside of Invercargill.
Finally, if you link your Google Ads to your Google Analytics account you can set goals to measure which of your adverts are the most successful in converting to an enquiry or a sale, meaning you can precisely measure the return on your investment.
Can I do it Myself?
Yes, but probably the more pertinent question is, 'Should you do it yourself".
Taking advantage of our Google Ads management service will save you money and deliver much better results than if you were to manage your campaigns yourself. Initially we'll undertake the keyword analysis, write the adverts and set up the campaigns. Although this is time consuming, it's really just the start of it. Google Ads is essentially an auction and the more popular the keyword, the more you'll pay per click. Our job is to manage your campaigns daily to make sure we're using the right bidding strategy to get the best outcome for your budget.
We'll set up goals so we can track the conversion rates and provide an easy to understand monthly report on the success of your campaigns and any recommendations. We'll also expand your ads with extensions that give additional information to people and provide more reasons to choose your business. Extensions can include call buttons, location information, links to specific parts of your website, additional text, etc.
Why Use Designer Websites?
Designer Websites is a Google Partner, which means we have met strict requirements for the performance of our Google Ads campaigns and we've been trained and certified by Google. You can click on our Partners badge below for more information.
All our Google Ads clients also have free access to our Digital Marketing for Beginners videos to help you further optimise your online presence. These instructional videos have been created in-house for the benefit of our digital marketing clients.
| | |
| --- | --- |
| Display Ads, Remarketing &  Video Ads | |
Google Search Ads are just the beginning. We can use Google Display Ads to show image or text based ads on a variety of websites, such as TradeMe, and other industry and interest specific websites across the internet, to help you reach more potential customers. With Google Remarketing, we can display very specific ads to people who have already visited your website to encourage them to reconnect with you as they browse the internet. We can also show video ads through channels like YouTube.
These ads can be shown to as broad or narrow an audience as you like. We can even define a 'custom' audience to show ads to potential customers who meet a defined profile and whose search history shows they are ready to make a purchase
Linking Your Ads Campaigns to your SEO Activities
Designer Websites also offer managed search engine optimisation (SEO) services and we can bundle our Google Ads and SEO services into a single package to enhance both campaigns.
Contact Designer Websites today for a no obligation discussion about how we can bring you more business through Google Ads.